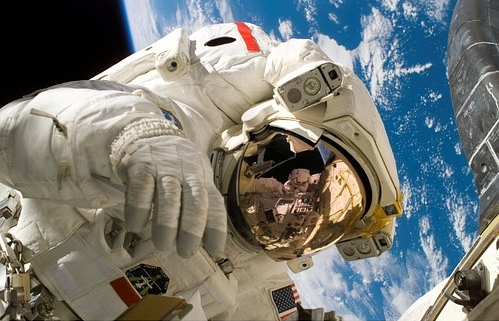 Dear Drama Observers,
This past week, we celebrated the 50th anniversary of the Apollo 11 moon landing which happened just before my senior year in high school. At that time, I was smitten… I wanted to be an astronaut so badly. I read everything I could get my hands on about astronauts and the space program, probably to the point of becoming quite nerdy about it.
I was so into the space program that I switched my college destination to attend a university that offered a degree in Aerospace Engineering. I enrolled in the Air Force R.O.T.C. and my course was set… I would graduate with my engineering degree, join the Air Force, become a fighter pilot, crack into the elite astronaut corps, and blast off into space. Watch out, moon, here I come!
But, what did I know? I was seventeen. Halfway through my first semester, I decided I didn't want to be an astronaut after all and changed majors. Ultimately, I ended up in a career where instead of exploring outer space, I spend my days exploring the inner space between people's ears.
I'll never regret making that switch, but I've retained a lot of the space knowledge I learned back then. This past week, however, I came across a story about the space program I've never heard before despite having studied it quite extensively… or so I thought. I first saw the story on a documentary and then listened to a more detailed description on a podcast by the New York Times called The Daily.
I'd like to do two things in this letter: I'll first give you a brief overview of the story and then secondly, I'll explain why I suspect many of us have never heard it. And surprise, surprise, the reason has something to do with the subject of this weekly email… Drama.
Born in Kansas City in 1933, Edward Dwight was a precocious child who started school at the age of 2. His parents got him a library card when he turned 4 after which he "lived" at the library. At age 5 or 6, managers of the local airport started paying Ed a few cents a day to clean out their airplanes. Through this early exposure, he became increasingly intrigued with aviation, though he never thought it'd be possible for him to become a pilot.
And yet, he stayed intrigued; so much so that he used his library time to study pilot training manuals. Upon graduation from high school, he joined the Air Force and, when the time came to take his flight certification test, he aced it, having previously learned so much of that information from library books. Ed became an officer, rose quickly through the ranks, got an engineering degree, and became an accomplished fighter pilot. He was told by his superiors that if his career stayed on track, he would likely rise to the rank of general one day.
This was the late 1950's—the early days of the space program. President Eisenhower had decided that astronauts should be selected only from the ranks of fighter pilots who also had engineering degrees. Well, Ed met those criteria.
He subsequently caught the attention of President Kennedy, who took it upon himself to advocate for Ed's inclusion in the initial class of astronauts. Indeed, Ed became part of an advanced pilot training program from which the first astronauts would be selected. He was sent out on a nationwide speaking tour and the picture of Ed's handsome face appeared on the covers of numerous publications, including the New York Times.
But, when the first astronauts were selected, Ed was passed over. He thought he might make it into the next class, but his hopes were dashed on November 22, 1963 when shots rang out in Dallas and the nation lost its Commander-in-Chief. Without the advocacy of Kennedy, he never made it into the space program and eventually resigned his Air Force commission.
However difficult this was to go through, his life wasn't over. For a while, he worked for IBM and then started an executive flight company. He later moved to Denver where he went to graduate school, earned a Master of Fine Arts, and became a large metal sculptor. He started another company and has since created over 100 art sculptures that are displayed in cities across the United States. He's now 85 and is still going strong.
Here's why I suspect I've never heard the story of Ed Dwight until now: Ed is black and I'm white. Now let me fill in a few of the details I previously left out.
Ed didn't initially think about being a pilot because aviation was largely a white person's field. He started dreaming about flying when he discovered the picture of a black pilot on the cover of an aviation magazine at the library. That intrigued him. He did well in the Air Force but gave the space program no thought whatsoever because in those days, black people would never be considered for such things. Ed became a candidate for the space program only after Edward R. Murrow, the legendary CBS newsman, convinced Kennedy that putting a black astronaut in space would demonstrate the superiority of our American system over that of the Soviet Union. Kennedy agreed and became Ed's advocate. In various cities during Ed's nationwide speaking tour, he was denied entry to certain restaurants and hotels because of his race. Kennedy's assassination brought an end to the possibility of Ed's space program involvement after which he left the Air Force. Ed's famous sculptures have been constructed to commemorate the achievements of iconic and influential African Americans along with important historical events such as the Underground Railroad.
So, what does all this have to do with a weekly letter called The Drama Review? Ed was part of a collective racial drama predominant in the United States during those years which operated like this: Our role (white people) is to be up and your role (black people) is to be down. As long as we all stay inside of our drama roles, we'll get along just fine.
I have a few thoughts about Ed's relationship to this national drama:
You might say that Ed was a drama non-participant. He refused to limit his aspirations by playing his obligatory role of submission.
Perhaps we'll never know for sure, but there exists a strong likelihood that Ed's skin color kept him from making the astronaut cut. Given the times, however, it was amazing that he made it as far as he did.
Refusing to be demoralized, he went on to become famous in his own right in a completely different field of endeavor. He transitioned from would-be astronaut to sculptor. I mean… Who does that?!  Ed does.
I've gone my whole life without hearing the story of this astronomically impressive individual until now. But if I was black, this story would probably be very familiar to me.
Ed was an accomplished pilot and to this day is an impressive sculptor. But perhaps even more impressive has been his unwillingness to allow drama obligations to define his existence.
Ed never reached the moon, but in my book, he's a star.
Till next week.
https://peopleproblems.org/wp-content/uploads/2019/07/Astronaut.jpg
340
499
Alan Godwin
https://peopleproblems.org/wp-content/uploads/2017/03/pplogo-w.png
Alan Godwin
2019-07-26 08:26:36
2019-07-26 08:28:01
July 26, 2019