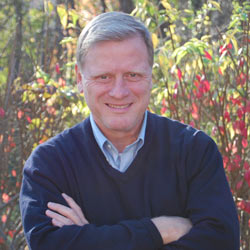 Dear Drama Observers,
If a contest were held to determine which word best describes the novel era in which we currently live, "uncertainty" might win the prize. About where we go from here and what to expect, there are numerous opinions. But the most honest prognosticators humbly admit that no one knows for certain. This pandemic territory is largely uncharted, and we'll know what lies around the bend when we get there.
But we don't like that.
As I've written before, it's human nature to prefer certainty over ambiguity and tolerating the unknown is uncomfortable for most of us. Whenever such vacuums of vagueness arise, there will always be people willing to fill them in, offering the certainty we so greatly crave. It's usually the case that their individual voices become amplified when part of a crowd.
Crowds aren't inherently bad. I mean, most of us like the collective enthusiasm of sporting events, for instance. But it's been my observation that crowds tend to devolve from good to bad, from noble to sinister. In these pandemic times, examples abound. A crowd may protest while toting weapons and tiki torches, or it may be a virtual crowd comprised of social media compatriots who vigorously reinforce each other's opinions. A crowd offers the comfort of certainty when certainty is in short supply.
Here's my way of describing how winsome assemblies morph into angry crowds.
Stage One
People start out forming coalitions of the like-minded. They're individuals with shared commitments who find strength in numbers. They not only know what they believe but why they believe it. Consequently, members of the assembly tend to be people of individual conviction.
While they understand the reasons for their beliefs, they're humble about. And their humility is apparent to those whom they attempt to persuade. They don't come across as know-it-alls, and their meekness may soften the hearts of the skeptical. And they demonstrate a tolerance for disagreement.
Above all, they advocate for what's true. Being accurate is more important than simply being right, and they'll adjust their opinions if sufficiently convincing information comes along.
Their motivation stems more from what they know than what they feel. And the nobility of the group's cause tends to make the individual group members better versions of themselves.
Stage Two
The group becomes an end unto itself. Members are motivated less by the original cause and more by maintaining the group's existence. People still know what they believe but tend to forget why they started believing those things in the first place.
This is a tipping point in the assembly's devolution.
Stage Three
Individual opinions give way to the collective opinions of the group. Subtly, the stance becomes, "If the group believes it, so do I." The once deeply-held convictions morph into superficially-held beliefs.
Whereas Stage One assemblies are inspired, Stage Three crowds tend to be angry. They seem less interested in persuading outsiders and more invested in condemning those who disagree. And disagreers are made to pay a price for their dissent.
In this stage, group members are more likely to make decisions based on emotions than the intellect. Stage One members can keep their emotions in check. Stage Three members tend to let emotions run amok.
Crowd power at Stage Three is a destructive force. Impulses that are normally restrained are given implicit permission to be expressed. Your "better angels" are encouraged to fly in Stage One. Your road-rage self is given tracks to run on in Stage Three.
***
In summary, here's how I would summarize the differences between winsome assemblies and angry crowds:
Winsome assembly: Humility
Angry crowd: Arrogance
Winsome assembly: Appealing
Angry crowd: Repulsive
Winsome assembly: Influences outsiders
Angry crowd: Preaches to its "choir"
Winsome assembly: The goal is to persuade skeptics
Angry crowd: The goal is to destroy opponents
Winsome assembly: Tolerant of diverse opinions
Angry crowd: Intolerant of contrary opinions
Winsome assembly: Individual thought is encouraged
Angry crowd: Only collective thought is permitted
Winsome assembly: Brings out your best
Angry crowd: Brings out your worst
Winsome assembly: Its influence endures
Angry crowd: Its influence is short-lived
Winsome assembly: Personal integrity is encouraged
Angry crowd: Personal hypocrisy is overlooked
Winsome assembly: Chief drive is the intellect
Angry crowd: Chief drive is the emotions
Winsome assembly: Self-awareness
Angry crowd: Blind to their own faults
Winsome assembly: Unity
Angry crowd: Uniformity
Winsome assembly: Allegiance to truth
Angry crowd: Allegiance to tribe
I recently read The Autobiography of Martin Luther King, Jr., a collection of King's first-person writings compiled by Clayborne Carson. King led what was arguably the most influential social change movement in American history.
He was well-aware of the difficulties of keeping his movement focused on non-violent methods and avoiding the gravitational pull of angry crowd tendencies.
As the years went by and progress was uneven, he came under increasing pressure to alter his methods. In this context, he made a statement that expressed where he landed: "I would rather be a man of conviction than a man of conformity."
King understood more than most that a winsome assembly is far more persuasive—and likely to bring about needed change—than an angry crowd.
Would that pandemic warriors apply that principle.
Till next week.
https://peopleproblems.org/wp-content/uploads/2019/12/Current-Picture-2.jpg
250
250
Alan Godwin
https://peopleproblems.org/wp-content/uploads/2017/03/pplogo-w.png
Alan Godwin
2020-05-01 12:10:38
2020-05-02 06:36:17
May 1, 2020